On the road: catching up with Wandering Home
On the road: catching up with Wandering Home
It's been a couple of months since Charlie and Josh packed up their belongings and hit the road in their Mercedes Vario 614D, taking in the best of the UK's green splendour, sandy beaches and epic mountains.
When we last spoke to them,
the couple were brimming with excitement at what lay ahead. Now, they're halfway through a trip of a lifetime, ticking off all 15 UK national parks on the way and when Columbia catches up with them, they and their beloved van are sitting in a field of sheep in the
Yorkshire Dales
. "We've had some of our first hiccups this week," says Josh, explaining that they're waiting for a mechanic to help get them back on the road after an issue with their clutch.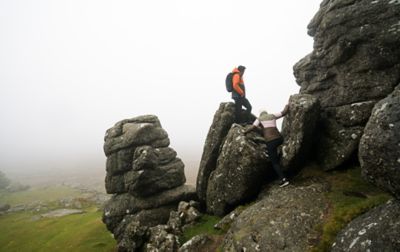 A particular highlight has been Wales: "it has such a diverse landscape. I was impressed by how different all the parts were. I wasn't expecting that," explains Charlie. They loved how one moment they'd be on great big sandy beaches kitesurfing, then a few days later they'd be climbing up Mount Snowdon. A drive along the Welsh coast with ocean views to the left and looming mountains ahead was another unforgettable experience for the couple.

The nicest feedback, they say, has been when locals have complimented them on their coverage of sights and hidden gems. "That's always really nice because you don't want to go and upset locals if you're giving away their favourite spots or pronounce place names incorrectly," laughs Charlie. It's also proven popular with their UK social media following who've been interested to see what adventures and beautiful landscapes are on the doorstep, given that current travel restrictions have made holidaying abroad tricky.
Their van has also had a lot of attention: "when we pull into a campsite, people come over and want to see inside." Another unexpected joy has been meeting a number of people along their travels. "We thought about all the places we would see, the walks and swims, but actually, a huge part of it has been the people [we've met]," shares Charlie. For example, after stopping by at the rustic
Café Môr
on Freshwater West beach in Pembrokeshire for a spot of brunch, they got chatting to the owner who practices an old way of foraging seaweed to make laverbread. He later knocked on the side of their van to share some of his unique seaweed infused rum. "Perhaps that's something that we'd lost in the pandemic - that actually when you go on holiday or are travelling, you meet new people everyday," explains Charlie philosophically. "You tell them a bit about your life, and they tell you about theirs and then you move on."
Next up for the couple, once they've had their visit from the mechanic, is the
Lake District
and if their previous experiences are anything to go by, they're set to soak up more stunning landscapes, fun adventures and will be meeting plenty more people along the way.