THE ANNUAL GENERAL HIKE
YOU'LL NEVER WALK ALONE
Back by popular demand, The Hike Society's Annual General Hike makes a triumphant return this Spring as the hiking communities shaping outdoor culture in the UK unite once again over the weekend of 29-30 April.
This year The Hike Society turns its attention to the far-reaching benefits of the outdoors and community on mental health. It follows research in partnership with Ramblers, the UK's hiking charity, which revealed that the most common reason community members used the outdoors was to support their mental wellbeing.
According to NHS England, one in four adults experience at least one diagnosable mental health problem in any given year and mental health problems represent the largest single cause of disability in the UK.

The Hike Society is uniquely placed to play a small part in helping turn the tide and weather the storm. Across multiple studies, researchers have found a fascinating link between access to green space, such as fields, forests, parks and gardens, and a reduced risk of mental health problems, improved mood, and increased life satisfaction.

For 2023, The Hike Society is collaborating with outdoor communities to provide its leaders with valuable mental health first aid training. Our ambition is to equip outdoor groups with the tools to create an open, safe space that's strengthened by a supportive community with a shared passion for the great outdoors.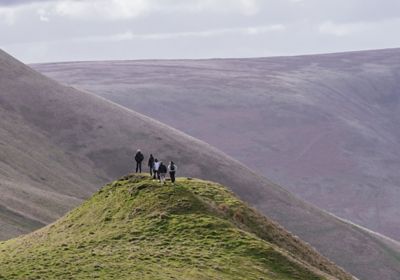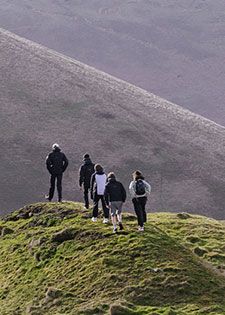 "THIS YEAR THE HIKE SOCIETY TURNS ITS ATTENTION TO THE FAR-REACHING BENEFITS OF THE OUTDOORS AND COMMUNITY ON MENTAL HEALTH."
This will enable the leaders to connect the dots between the benefits of the natural world and that of the training itself, including; raising awareness of mental illnesses, encouraging early intervention to aid recovery, increasing confidence in dealing with mental illnesses and reducing stigma around mental health issues.
The Annual General Hike will be dedicated to mental health, as communities are assigned to embark on a hiking challenge, from conquering Scafell Pike to bagging Welsh peaks, all in aid of charity. The festival of hiking will provide a platform for hikers to walk and talk and reflect on how nature and community can support their mental health.

Ahead of the Annual General Hike, we caught up with community leaders in the Peak District to uncover their first-hand mental health experiences and how the outdoors has assisted them in aiding their mental wellbeing.
TO GET INVOLVED AND SIGN UP TO AN ANNUAL GENERAL HIKE EVENT THIS YEAR, VISIT
OUR EVENTS
.
GET THE GEAR
A seam-sealed waterproof shell jacket with breathable underarm vents.
A water and stain resistant Titanium half zip that packs down into a pocket for easy carriage.
A lightweight but technical men's walking boot with full weather protection.
This bulk-free 2-layer lightweight rain jacket packs a waterproof-breathable punch
Practical and stylish, this lightweight fleece is warm enough for summer days spent on the peaks.
Sun protection and water repellence in a pair of versatile and protective hiking trousers for women.