GERALDINE FASNACHT - THE BIRDWOMAN
TESTED TOUGH IN THE FEMININE
GERALDINE FASNACHT AND COLUMBIA SPORTSWEAR HAVE BEEN PARTNERS FOR 15 YEARS.
Geraldine tests and uses our products in the harshest, most extreme, and most natural of conditions. She is constantly in search of new challenges.

Her ironclad values and top-rate performances make her one of the most legendary adventurers of her generation.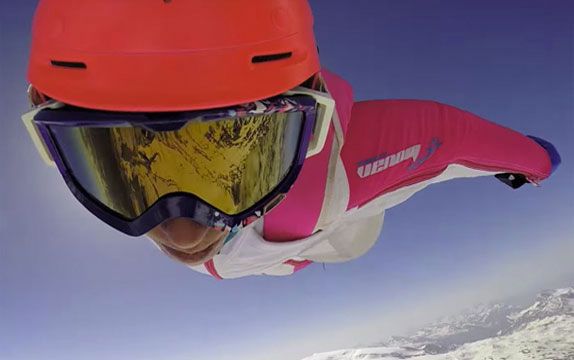 The first ever wingsuit jump from the Matterhorn
This 35-year-old Swiss woman has always been fueled by adrenaline and pleasure. After having begun her career as a snowboarder, Geraldine didn't stop with her finishes atop the podium. Her elements are the air and snow, and her milieu is the mountain.

Over the course of her expeditions around the planet, Geraldine Fasnacht lives out her passion. She snowaboards the world's steepest slopes and flies along thoroughly dizzying mountains in a wingsuit.
8 YEARS AS NUMBER ONE IN THE WORLD, AND THE PURSUIT OF ADVENTURE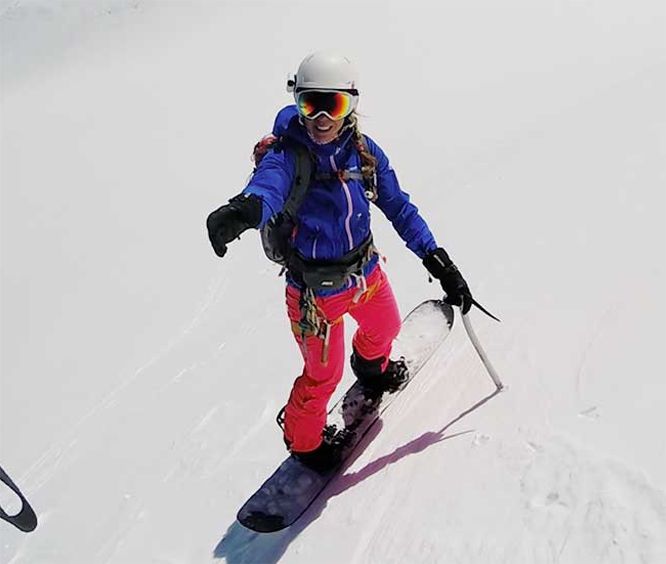 In 2002, during her very first competition, Geraldine wins the Xtreme Verbier, a renowned international freeride ski & snowboard competition. Five further victories propel her, at 21 years of age, to the top of the international freeride snowboard rankings. A position she will conserve for 8 straight years.
The pull of the tallest mountains and the expeditions she has been guiding since 2005 alongside competing lead her to leave the bibs behind for good and seek out new horizons. Her trophy collection, adventurous spirit, and enthusiasm contribute to a well-earned reward: in 2009, she is elected ""Rider of the Year"" by Fluid. It's the first time a woman
wins this prize
.
ALWAYS LOOKING FOR NEW LINES
20 top-3 finishes between 2002 and 2010 on the
international freeride snowboard circuit
11 international victories
3 time winner of the Xtreme Verbier
(2002, 2003, 2009)
A PASSION FOR THE MOUNTAIN IN 3D…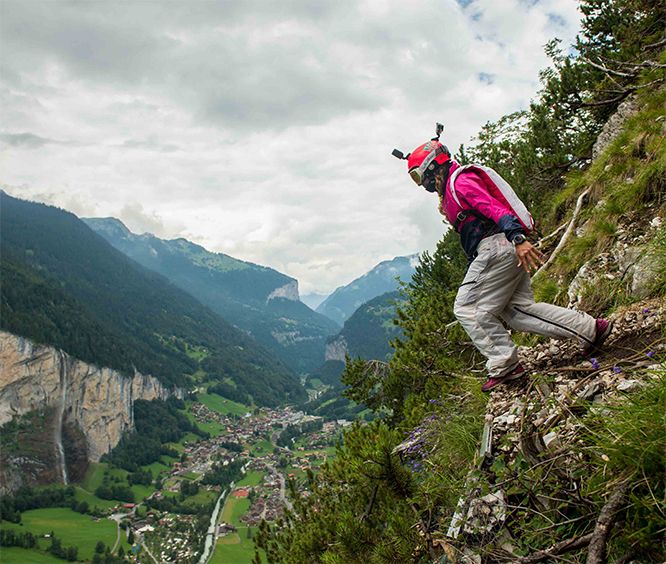 Drawn by the base jump since the age of 17, Geraldine sees in this discipline an approach that's identical to mountainerring: identify your trajectory, climb the peaks to reach the starting point, and finally, trace your line in harmony with the landscape.

In 1998, she makes her first base jumps just after having surpassed the 300 airplane skydive mark. She then tackles bridges, cliffs…A veritable rite of passage which would only strengthen her desire to glide through the air.
Geraldine will find the Holy Grail in a wingsuit: flying alongside mountains without a wing above her head. After her conquest of Mount Cervin, the birdwoman undertook to take us behind the scenes and through the decision and preparation leading to a flight, and an epic one at that, Mount Rose, one of the most inaccessible Alpine peaks and never attempted by any wing suiter before.
'4634 – Perception – The Mountain Within'
takes us to the heart of this incredible adventure. Watch the video
here
.
Follow Geraldine:
Official Website
|
Youtube
|
Facebook